Kupuj teraz – zapłać później!
Odroczona płatność do 45 dni lub 12 rat
Płać w sklepach internetowych i stacjonarnych
Otrzymaj limit nawet 5 000 zł
Płać z kartą KUPUJTERAZ
Nowy poziom finansów:
Odroczona płatność do 45 dni lub 12 rat
Płać w sklepach internetowych i stacjonarnych
Otrzymaj limit nawet 5 000 zł,
Masz wątpliwości?
Zobacz jakie to proste
Załóż konto i otrzymaj limit
Złóż bezpłatny wniosek o kartę z limitem. Za konto nie pobieramy żadnych opłat, a Ty możesz na bieżąco sprawdzać dostępne środki w ramach przyznanego limitu.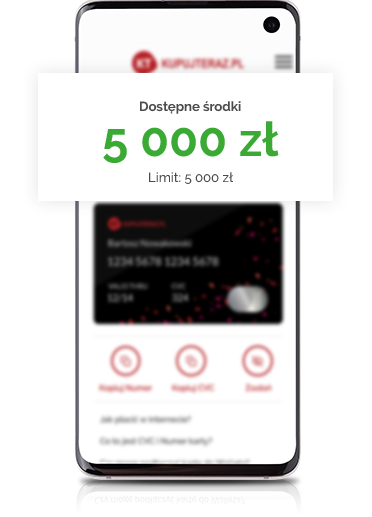 Idź na zakupy z naszą kartą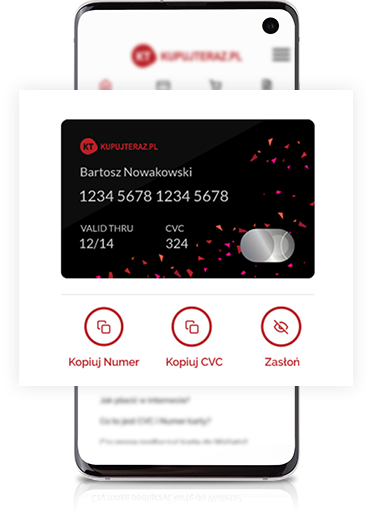 Wybierz swój ulubiony sklep (online albo stacjonarny) i zapłać za wybrane produkty naszą kartą. Kartę możesz zintegrować z płatnościami w swoim telefonie (GooglePay lub ApplePay). Koszty każdej transkacji są po naszej stronie!
Skorzystaj z wolności wyboru
Z kartą KUPUJTERAZ to ty decydujesz czy płacisz teraz, czy 15 dnia każego nowego miesiąca, a gdy nie chcesz płacić za całość w jednej płatności rozłożymy ją na 12 rat.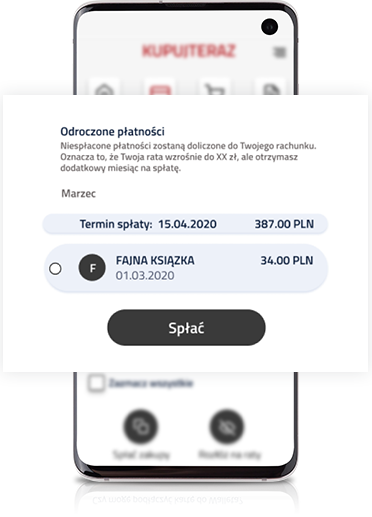 A ile to kosztuje?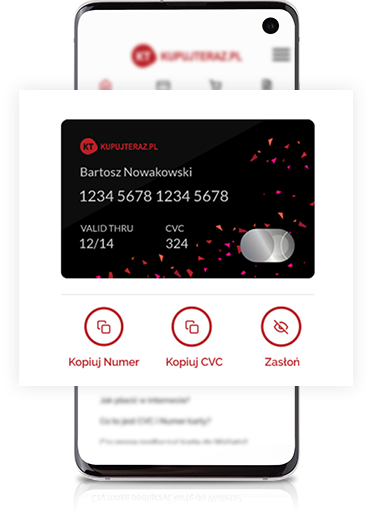 Karta jest za darmo. Płacenie kartą jest za darmo. Operacje na karcie też są za darmo. Panel Klienta, utrzymanie Twojej karty, wszystkie powiadomienia, infolinie itp… też są za darmo.
Tabela opłat jest prosta:
| Tytuł | Opłata |
| --- | --- |
| Utrzymanie karty (miesięcznie) | 0 PLN |
| Zakupy w sklepach stacjonarnych/przez Internet | 0 PLN |
| Sprawdzenie salda karty w bankomacie | 0 PLN |
| Płatności: ApplePay, GooglePay | 0 PLN |